Sandbox has lost over 80% since peaking above $8

The token is currently trading at less than $1 and could go lower

The blockchain gaming platform had its first metaverse wedding this week
Sandbox SAND/USD is trading at $0.8745 after a dismal 1.08% gain in the past day. The metaverse token is down by a whopping 89% from the November ATH. Despite the huge sell-off, Sandbox is weathering the storm by introducing new use cases.
The blockchain-based gaming platform held its first metaverse wedding five days ago. Sandbox COO Sebastian Borget officiated the event. The function was live on the blockchain with digital avatars replicating reality.
Aside, Sandbox is gaining ground among financial institutions. This month, the largest Southeast Asian bank, DBS, partnered with the network to launch lending services. Other financial giants like JP Morgan and HSBC have taken their services to the virtual space. Let's get into the details.
The Sandbox is a gaming platform with three integrated products. First, the Voxel editor, a 3D voxel modeling that allows for NFT creation for PC and Mac. The second product is the Sandbox NFT marketplace. The platform enables users to upload, publish, and sell NFT creations. Lastly, Sandbox game maker is meant for building 3D games at no charge.
Broadly, Sandbox is designed for building, owning, and monetizing gaming experiences. Away from the fundamentals, Sandbox is looking bearish at key support.
SAND retreats to the bottom of a horizontal channel
eToro
eToro is one of the world's leading multi-asset trading platforms offering some of the lowest commission and fee rates in the industry. It's social copy trading features make it a great choice for those getting started.
Bitstamp
Bitstamp is a leading cryptocurrency exchange which offers trading in fiat currencies or popular cryptocurrencies. Bitstamp is a fully regulated company which offers users an intuitive interface, a high degree of security for your digital assets, excellent customer support and multiple withdrawal methods.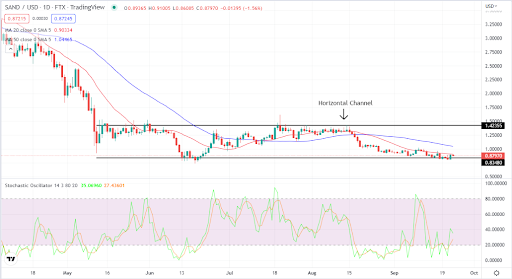 Source: TradingView
Technically, SAND has been locked in a consolidation pattern since May. It has been oscillating between $0.8 support and $1.4 resistance. Currently, below the 20 and 50 moving averages, SAND could easily lose the current support. The Stochastic Oscillator can affirm the sentiment. The metric is above the oversold zone. If SAND loses the current level, it could find new support.
Concluding thoughts
A bullish reversal in Sandbox is not on the horizon. The token remains locked in a consolidation. Momentum indicators are showing bearish signals, and SAND could retest lower levels.
The post Are we likely to see a bullish reversal on Sandbox soon? appeared first on CoinJournal.
Source: CoinJournal: Latest Bitcoin, Ethereum & Crypto News
Top 5 Altcoins to BUY in October 2022 – Best Cryptocurrency Investments
October has always been bullish for cryptos. Like we do every month, we'll provide in this article the top 5 altcoins to buy in October 2022.
The year 2022 was one of the worst years for cryptocurrencies. Crypto investors saw major price declines from all-time highs. It is no longer possible to hold Bitcoin and wait to make a million dollars with an investment of under $10,000. However, there are many altcoins that are expected to boom in the coming months, especially starting in October as this month has always been bullish for cryptos. Like we do every month, we'll provide in this article the top 5 altcoins to buy in October 2022.
#5 Chainlink (LINK)
Chainlink enables the incorporation of globally interconnected smart contracts. Furthermore, it is a decentralized network of nodes that uses oracles to feed on-chain smart contracts data from off-chain sources. Since the network's launch in 2019, it has enabled safe communication between blockchains and external data feeds and events. Such data streams include, for instance, stock prices and results from sporting events.
#4 Polygon (MATIC)
Polygon is a scaling method for the Ethereum Blockchain. It ought to make transactions easier and quicker. In order to more evenly spread the volume of transactions that take place on Ethereum, Polygon employs so-called "sidechains." A layer 2 solution focuses on this.
MATIC prices did adjust in the past 2 months. However, its prices are about to grow as part of an uptrend continuation. Since the month of October has always been known to be green for cryptos, MATIC can confirm its trend continuation from October onwards.
#3 Cardano (ADA)
Cardano managed to secure its 3rd place in our top 5 altcoins to buy in October 2022. In fact, it is one of the most promising cryptocurrency projects. It is well-known since Cardano is now the most advanced and well-liked proof-of-stake cryptocurrency available. Cardano is undoubtedly one of the most peer-reviewed and meticulously built blockchain platforms, and nobody in the cryptocurrency world can dispute that. Few, if any, other cryptos can lay claim to that designation. The robust peer-review methods and processes enable this proof-of-stake coin to properly compete with Ethereum.
Cardano is frequently described as the third generation of cryptocurrencies, with Ethereum and Bitcoin serving as the first and second generations, respectively. However, from the perspective of cryptocurrency prices, the ADA price has historically been significantly better, and 2022 has undoubtedly not been kind. That's why it might be a good idea to purchase ADA cheaply in anticipation of the upcoming uptrend, especially since prices are currently at a strong support area.
#2 Uniswap (UNI)
Uniswap is a decentralized exchange (aka DEX) based on the Ethereum blockchain that also functions as a coin. While its token holders run it, its Blockchain is open source and available for everyone to read and edit. It functions as a DEX and gives users access to its platform for peer-to-peer market making. These transactions don't need a broker or a third party, like any conventional DEX transaction. It is less expensive to run and utilize for users because of the absence of this interference.
#1 Ripple (XRP)
Ripple is number 1 on the list of the top 5 altcoins to buy in October 2022. Recently, the CEO of Ripple Brad Garlinghouse submitted a request for summary judgment. This is basically a request for summary judgment on at least one claim from the court. If the motion is granted, the issues in question are resolved without a trial. This would lead to a big win for Ripple, as they won't even need to settle by paying a hefty fee.
The likelihood of a Ripple victory is currently quite strong. On his Twitter account, the attorney for the Ripple corporation posts updates about how the legal matters are developing.
Source: Altcoin