Bitcoin (BTC) is showing several bullish signs in the daily time frame but has yet to break out from a short-term corrective pattern.
Bitcoin has been moving upwards since reaching a long-term low of $17,622 on June 18. On July 19, it broke out from a long-term descending resistance line, which had been in place since the end of March. 
On Aug. 11, BTC reached a local high of $24,918, which was the highest since June 12. However, it failed to sustain this increase and created a long upper wick in its daily candlestick (red icon).
If the upward movement continues, the closest resistance area would be found at $29,370. This target is the 0.382 Fib retracement resistance level.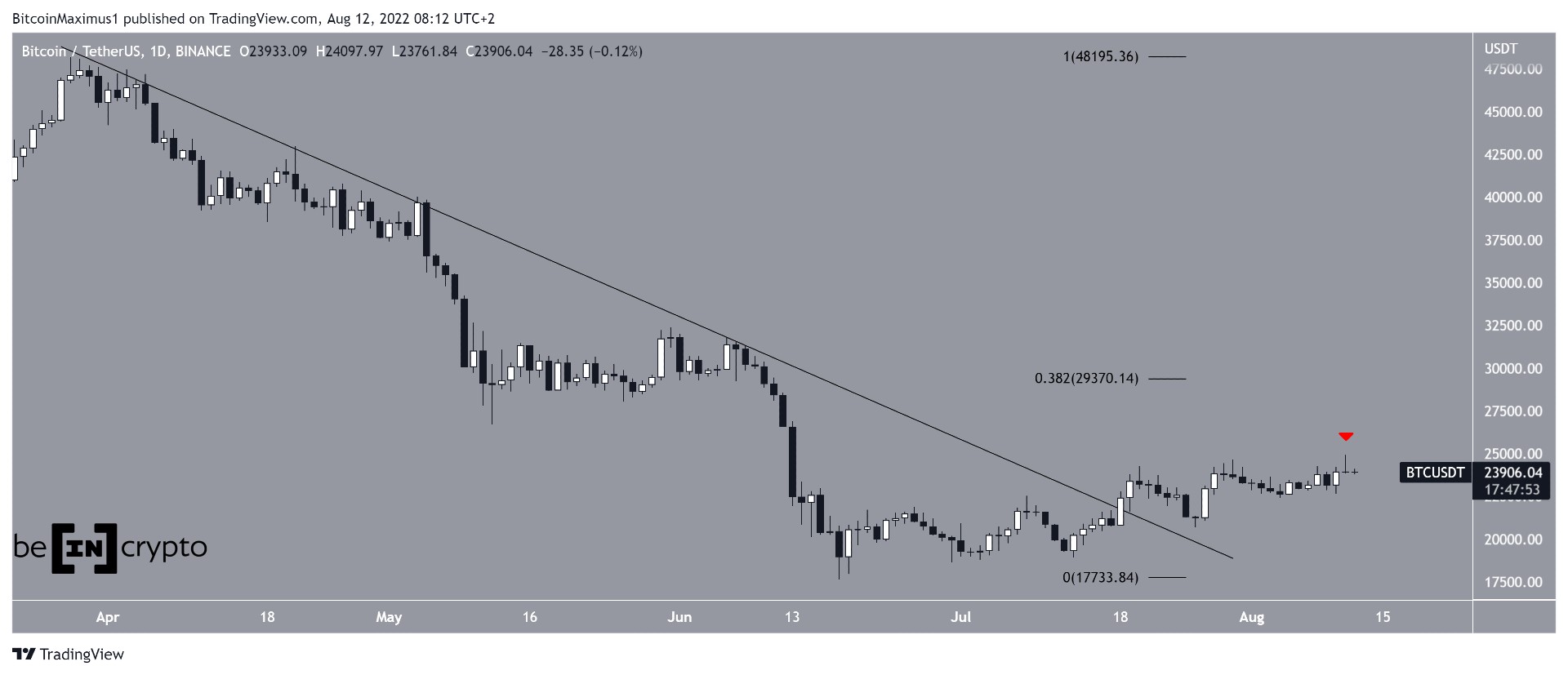 An interesting reading comes from the daily RSI, which moved above 50 at the same time which the price broke out from the descending resistance line.
Since then, the RSI has created an ascending triangle (dashed), which is often considered a bullish pattern. The indicator is currently at 61, right at the resistance line of this pattern. 
Therefore, a breakout above it would likely also cause the price to accelerate upwards.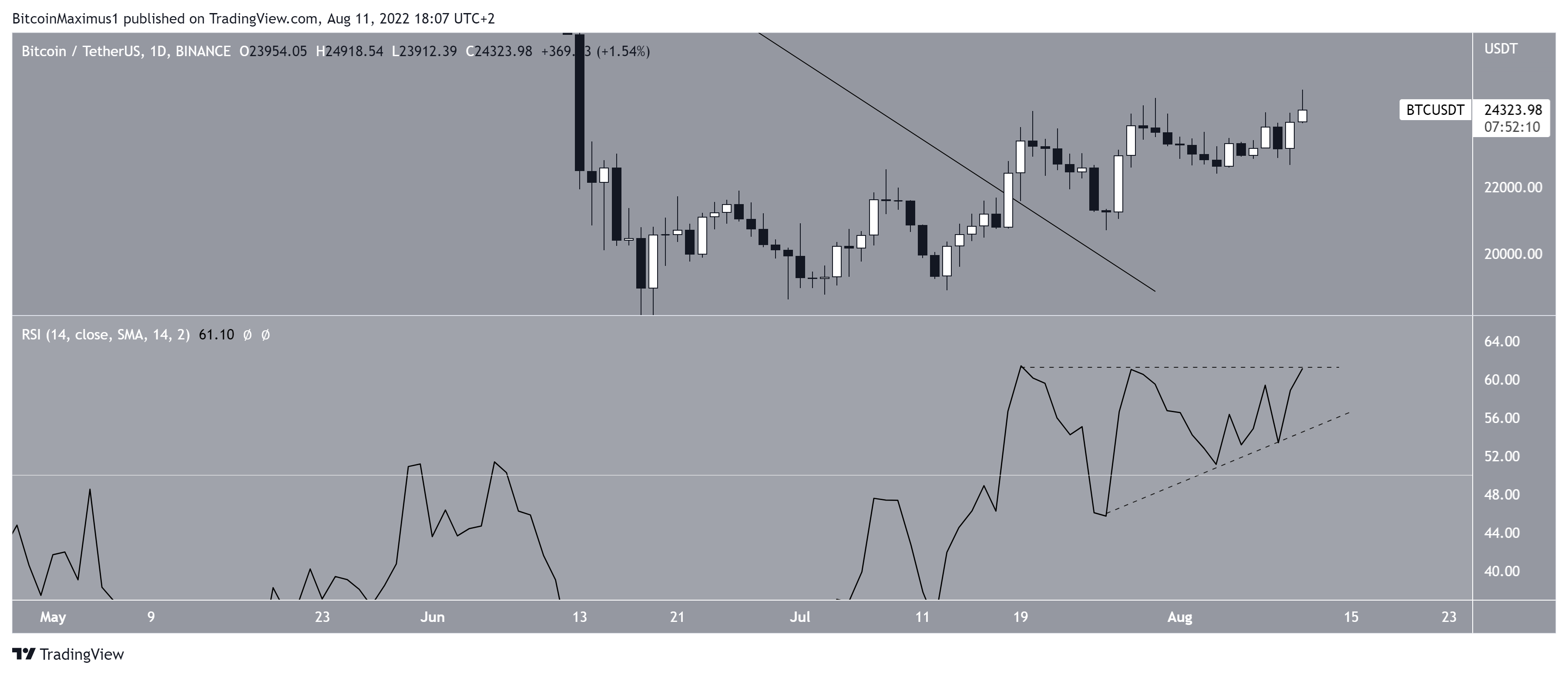 Short-term BTC pattern
Despite the relative bullishness from the daily time frame, the six-hour chart shows that BTC has been trading inside an ascending parallel channel since the June 18 bottom. Such channels usually contain corrective patterns, meaning that an eventual breakdown from it would be expected. 
Moreover, the price has created what resembles an even shorter-term double top (red icons), which is considered a bearish pattern made at the resistance line of the channel.
On Aug. 9 (green circle), the price rebounded from the midline of this channel and at a short-term ascending support line. 
So, whether BTC breaks out from the channel or breaks down from the support line will likely determine the direction of the future trend.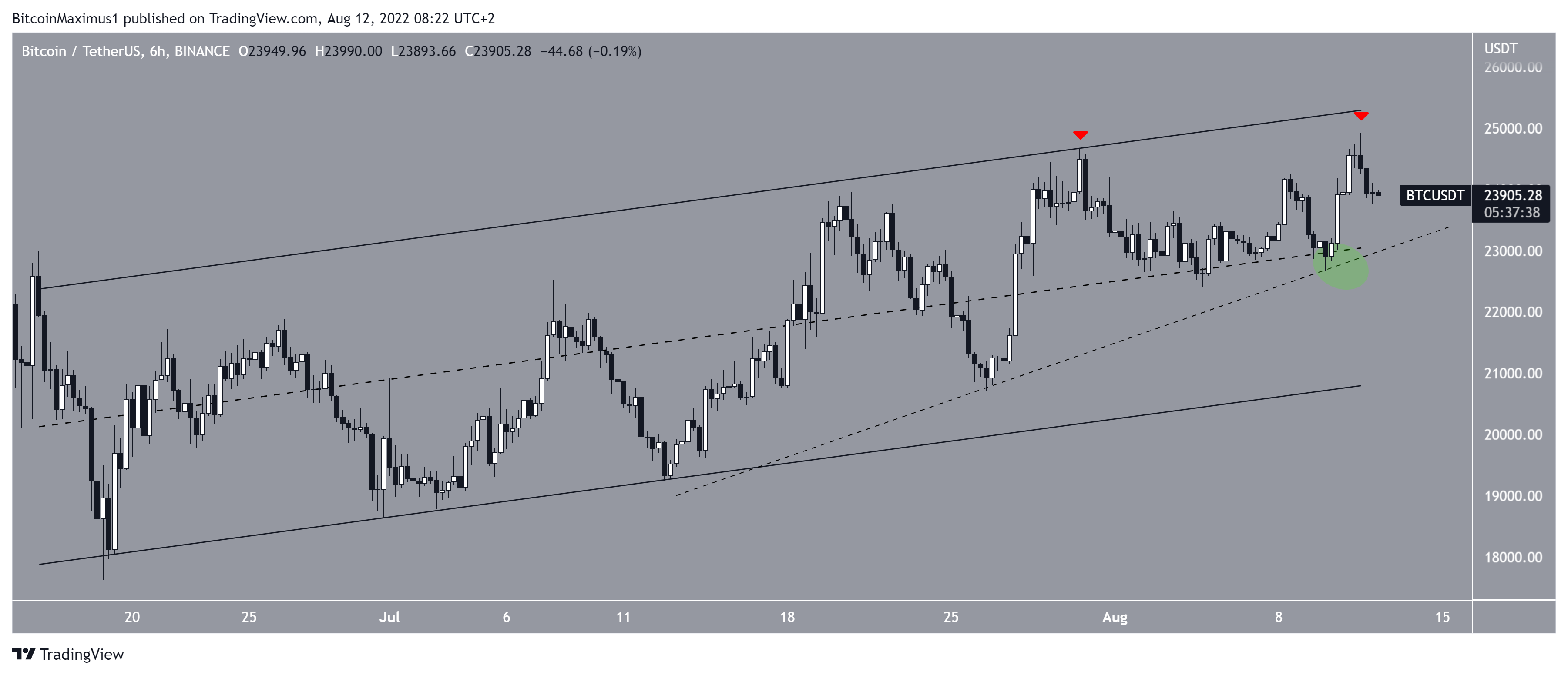 Wave count analysis
The main wave count indicates that BTC is likely in wave three of a five-wave upward move (black). The sub-wave count is shown in yellow, and also suggests that the price is in wave three. So, this seems to be a 1-2/1-2 wave formation. If correct, it would mean that the upward move will accelerate in the near future. 
In order for the count to remain correct, Bitcoin has to hold on above the slope of the original 1-2 (black).
The most likely long-term wave count is also bullish, aligning with the proposed short-term count.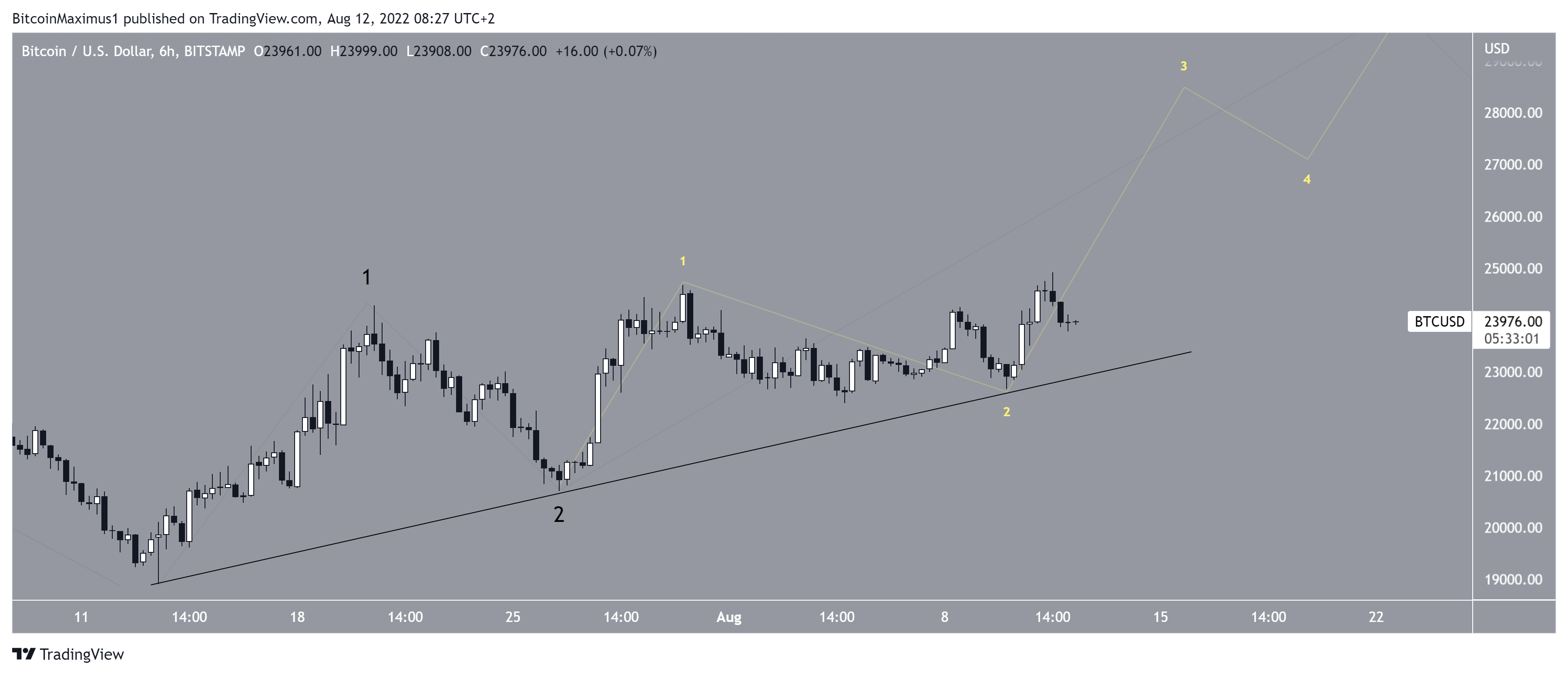 For Be[in]Crypto's previous Bitcoin (BTC) analysis, click here
The post Bitcoin (BTC) Nearly Taps $25,000 Level For the First Time Since June appeared first on BeInCrypto.
Source: Markets – BeInCrypto
Crypto funds saw a third straight week of inbound investments last week. However, CoinShares' James Butterfill says the low inflows suggest there's "continued investor hesitancy."
The crypto market has struggled to tag a positive sentiment, with September again proving a tricky month for bulls as prices remained largely within a long term downtrend going back to November 2021.
So while institutional investors continue to size up opportunities in the digital assets sector, flows into investment products have significantly remained low over the past few weeks.
James Butterfill, Head of Research at digital asset manager CoinShares, says the low inflows seen last week imply a "continued hesitancy" from investors.
Butterfill shared the outlook in the latest edition of the "Digital Asset Fund Flows Weekly Report", which CoinShares published on Monday.
Crypto funds see third week of inflows
Fund outflows year-to-date are at more than $42 million, with the past three weeks seeing positive flows.
US$10m inflows into digital assets last week, highlights continued investor hesitancyhttps://t.co/VQJY2oicLC

— James Butterfill (@jbutterfill) October 3, 2022
According to Butterfill, the low flows suggest institutional investors are still weighing up the market, particularly given the global macroeconomic environment.
"Digital asset investment products saw inflows totaling $10.3 million last week representing the third week of inflows. The flows remain low implying continued hesitancy amongst investors, this is highlighted in investment product trading volumes which were $886 million for the week, the lowest since October 2020," Butterfill wrote.
Bitcoin recorded minor inflows for a third week in a row, with $7.7 million (short bitcoin saw inflows of $2.1 million). Meanwhile, Ethereum registered $5.6 million in inflows last week to post a second positive week – but short Ethereum products hit outflows of $0.9 million.
Across the altcoin market, negative sentiment saw investors pull $3.5 million. Top outflows were in Polygon, Cardano and Avalanche.
The post Crypto fund flows suggest 'continued investor hesitancy': CoinShares appeared first on CoinJournal.
Source: CoinJournal: Latest Bitcoin, Ethereum & Crypto News