Uniswap gained 8% on Thursday immediately after the Fed rate hike.

Uniswap Foundation announced its first grant totaling $1.8 million for ecosystem growth.

UNI trades at a support zone.
Uniswap UNI/USD rose more than 8% before cooling down on Thursday. The gains coincided with a surge in trading volumes of more than 70% despite a Fed rate hike. There was no specific driver for the gains, although there were noticeable developments.
On September 21, the Uniswap Foundation announced the first batch of its grants. According to the Foundation, a total of $1.8 million grants will go to 14 recipients. The grant is part of Uniswap's move to grow the ecosystem. The move comes barely a month after the Uniswap community passed a proposal to establish the program. The grants will be awarded to teams and projects focusing on three areas. These are community growth, governance, and protocol growth.
It should be noted that Uniswap has been losing value since the Ethereum merge occurred a week ago. The DEX, the biggest in the world, has most of its funds locked on the Ethereum platform. The total value locked on Uniswap is $4.97 billion, with $4.77 billion on Ethereum.
Uniswap token recovers at a level at or slightly below the support
eToro
eToro is one of the world's leading multi-asset trading platforms offering some of the lowest commission and fee rates in the industry. It's social copy trading features make it a great choice for those getting started.
Bitstamp
Bitstamp is a leading cryptocurrency exchange which offers trading in fiat currencies or popular cryptocurrencies. Bitstamp is a fully regulated company which offers users an intuitive interface, a high degree of security for your digital assets, excellent customer support and multiple withdrawal methods.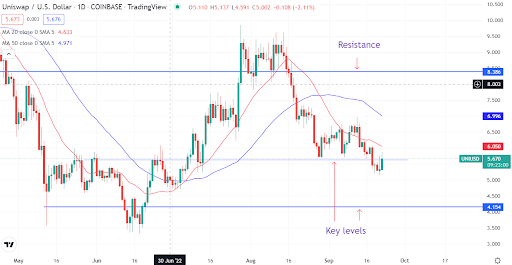 Source – TradingView
If we turn to the technical side, UNI trades at a support zone of $5.6. The trend remains bearish. The token is still under pressure as it has yet to recover above the support, which has now turned into resistance. A recent cross of the 20-day MA below the 50-day MA heightened the bearish weakness.
Concluding thoughts
UNI has to recover successfully above $5.6 to consider the intra-day gains sustainable. We need to watch the close of the daily candlestick to confirm a potential bullish reversal.
The post How sustainable is Uniswap's 8% jump amid the rate hike? appeared first on CoinJournal.
Source: CoinJournal: Latest Bitcoin, Ethereum & Crypto News
The Carlyle co-founder David Rubenstein also believes Congress will not overregulate the crypto industry.
David Rubenstein, co-founder and co-chairman of Carlyle, a global private equity firm, believes crypto is here to stay.
Rubestein, who aired his views on the crypto sector in a recent interview with Bloomberg, however suggests key factors that might drive one to crypto is if they are worried about government intervention or regulation and want to keep their money in something the authorities have no control over.
The billionaire businessman was speaking to fellow billionaire, Citadel founder and CEO Ken Griffin, during the launch of the Carlyle exec's book "How to Invest".
Asked what he thought of cryptocurrencies as part of his views on investing, Rubestein said he previously looked at it as gambling. But even then, he says those who allocate a percentage of their net worth into gambling or such other ventures, need to only use that which they can afford to lose.
"So with crypto that was my view for some time. If you get pleasure by watching the screens all day and saying you've just made a lot of money in crypto and so forth, you know allocate just enough so if you lose it it's not the end of the earth," he said.
"I now think that crypto is not going to go away the way some people have thought. And while you can argue it's worthless, in some respects many things that people buy are maybe worthless," Rubestein added.
Crypto not the 'worst thing' to invest in
The veteran businessman also touched on the aspect of "a libertarian view of life" in crypto, where the need to have assets that the government can't control is increasingly seeing the industry lobby Congress for certain legislation.
According to him, this appears to be pretty effective at the moment, and his opinion is that Congress will not overregulate the crypto industry.
And while he thinks crypto might attract people out to keep their money from the government- like Russian oligarchs whose assets were confiscated as part of Western sanctions, or a Chinese investor worried about the same should China invade Taiwan – he says certain factors make crypto "not the worst thing" to hold.
Why is this so?
"You can move it anywhere around the world. It's not going to be devalued by government inflation. It's not the worst thing to put some of your money in," he offered.
Rubestein said he has not personally invested in any particular cryptocurrencies. However, he is invested in "companies that service the industry" as he believes the industry as a whole is here to stay.
And like the internet, computers or smartphone trends or such other past trends, the young people are almost always at the forefront. The crypto revolution is no different, he opined.
"People who are in their 70s don't usually start economic trends really," he opined.
The post Billionaire David Rubenstein says 'crypto is not going away' appeared first on CoinJournal.
Source: CoinJournal: Latest Bitcoin, Ethereum & Crypto News