Metaverse patents are getting filed by big tech, who are yet again creating a moat around the Web3 space. Let's get in first. If you have a big idea, file a patent, says Jaime Schwarz of Brand Therapy.
The Metaverse isn't even here, yet we don't own it. If the mile-high list of patents filed by top 10 enterprises offers any signs, it's clear they intend on keeping it that way. So how did big businesses, without a metaverse to speak of, patent thousands of things that don't exist yet?
Thanks to the power of patents, ideas are protected well before they are built. While that's bad news if you have an idea that's already been patented, it's great news for what's to come. This is an in-between time where we still don't know what the Metaverse will become. But there is still a wide-open frontier for our imaginations to wander, and carve out space by creating patents ourselves.
Metaverse Patents – What's Your Idea?
We've all had game-changing ideas. The question is, what do we do about them?
In 2018, I was hired to consult on a marketing campaign for luxury watches. The luxury watch industry is one of the most knocked-off intensive industries in the physical world. How could they protect themselves in an increasingly augmented world? In fact, how can any brand protect itself?
I thought back to the rise of the first virtual product in the early aughts – digital music. Pirate services such as Napster and LimeWire destroyed the music industry overnight, by stealing intellectual property.
2018 was the time of the first blockchain bubble, the ICO craze, and the first AR bubble, Pokémon Go. What about all the virtual products we were about to buy? Were we heading towards an infinitely larger Napster problem?
The Napster and Limewire problem was somewhat solved with the arrival of iTunes. They created Digital Rights Management (DRM) for songs, providing a secure product but also scarcity.
Likewise, we need a similar solution for the Metaverse.
Metaverse Patents: Big Tech vs Patent Attorneys
A great patent attorney is a fantastic partner in this ever-expanding territory. I recommend doing research and putting in the time to find the right Intellectual Property (IP) partner.
I credit working with my patent attorney as the most important step in my own metaverse journey. Together, we filed what I call "Authorized Mixed Reality" (AMR). It is a system and method for identifying virtual goods.
There are infinite ways into something as limitless as the metaverse. So for you and your unique background, connect the dots that haven't been connected before. For me, my background in marketing led me to develop a comprehensive patent that aims to answer the question, "what could a brand mark or trademark do in an immersive, digital world to further its protective role?"
Try not to be confined by what makes sense for today's capabilities. Look towards tomorrow's potential, when the actual Metaverse is influencing our lives. Your patent attorney will help find your way forward, identifying potential overlaps, and arming you with the tools to stand out.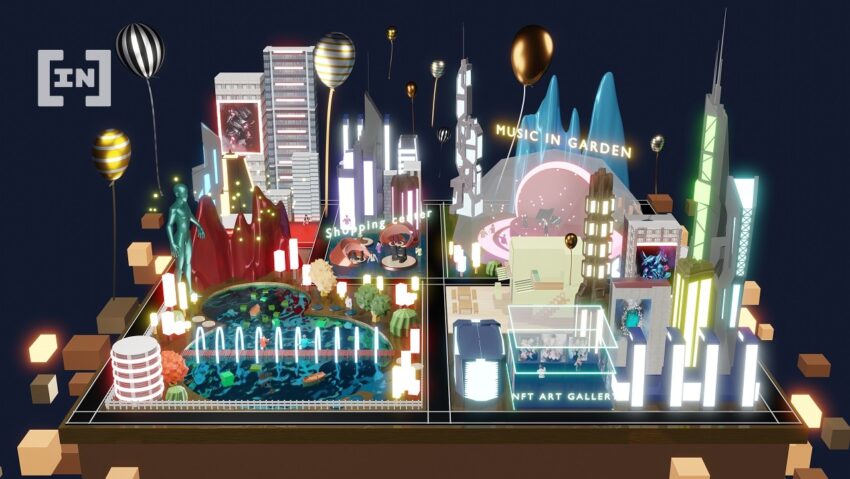 Public Vs Private
Finally, you have to decide if what you're filing should remain private or public. Most companies will file publicly so that their pending patent intimidates potential competition. I chose to file privately because I knew I was several years out from seeing it realized. And, I was able to adapt my pending patent before it was approved and finalized.
Be aware that the patent office is underfunded and backlogged, as you can imagine. New technologies can really throw the office through a loop. For reference, my entire process took almost four years.
A Patent is a Seat at the Table
Now that my patent is finalized, I have a seat at the table. I'm finding early footholds to grow potential partnerships with those at the forefront of the Metaverse simply because I have something tangible to bring to it.
The metaverse is a quantum leap forward for the internet. It will take years to fully develop, just like Web1 and Web2 before it. So many new technologies are converging that everything is new again. A lot has to be built from scratch and there are no best practices yet.
The good news is that the first-mover advantage is still open to all, including you. So open your mind and jump into the near future. Imagine that successful version of you in it, and work backward from there. I'm willing to bet, that if it's original enough, it will require a patent.
About the author

Jaime Schwarz of Brand Therapy is an award-winning creative director and brand therapist. After a dozen years of servicing Fortune 500 clients on Madison Avenue, he consults for clients of all sizes who truly care about their "why." After co-founding four startups of his own and spending time hearing from the wisdom of tribal elders and futurists alike, he is using his Authorized Mixed Reality patent to ensure digital objects can speak for themselves.
Got something to say about metaverse patents or anything else? Write to us or join the discussion in our Telegram channel. You can also catch us on Tik Tok, Facebook, or Twitter.
The post Metaverse Patents – Get in First With Yours Before Big Tech Does appeared first on BeInCrypto.
Source: Markets – BeInCrypto
EthereumMax has been pushed into the spotlight after Kim Kardashian was penalized by the US Securities and Exchange Commission for promoting it.
The EMAX token is soaring as a result, having added an impressive 86% to its value in the last 24 hours.
If you are attracted to unique features and want to learn how and where to buy EMAX, this guide is for you.
Top places to buy EMAX now
As EMAX is such a new asset, it's yet to be listed on major exchanges. You can still purchase EMAX using a DEX (decentralised exchange) though, which just means there are a few extra steps. To buy EMAX right now, follow these steps:
1. Buy ETH on a regulated exchange or broker, like eToro ›
We suggest eToro because it's one of the world's leading multi-asset trading platforms, an exchange and wallet all-in-one with some of the lowest fees in the industry. It's also beginner-friendly, and has more payment methods available to users than any other available service.
2. Send your ETH to a compatible wallet like Trust Wallet or MetaMask
You'll need to create your wallet, grab your address, and send your coins there.
3. Connect your wallet to the 1Inch DEX
Head to 1Inch, and 'connect' your wallet to it.
4. You can now swap your ETH for EMAX
Now that you're connected, you'll be able to swap for 100s of coins including EMAX.
What is EMAX?
EMAX is the token of EthereumMax, an ecosystem for a wide variety of digital assets. Its staking and liquidity options are leading it into the world of decentralised finance.
EthereumMax will be launching its own non-fungible token (NFT) marketplace in the future. They planned it in the second quarter of the year, but the project was postponed.
EMAX, described as a culture token, is based on the ERC-20 standard. It was conceived of as a community cryptocurrency, offering financial incentives and rewards.
Each EMAX sell transaction costs 6%, which the ecosystem's treasury receives. Another 6% is charged to liquidity providers. If the trade is made with the Arbitrum Layer 2, this amount is halved.
Should I buy EMAX today?
Considering how hard it is to come up with an accurate cryptocurrency prediction, you should never make any decisions affecting your finances before an in-depth market analysis. Don't invest more than you can afford to lose.
EMAX price prediction
Analysts like DigitalCoinPrice and PricePrediction are bullish on EMAX. The former predicted an average price of $0.0000000042 in 2022 and $0.000000017 in 3 years.
The latter is even more bullish, projecting an average price of $0.00000001 this year, $0.00000002 in 3 years, and $0.00000010 in 8 years.
EMAX on social media
Let's gooo #eMax! ♦️🔥🚀 #Crypto pic.twitter.com/nE3h1P0keT

— Emaxians (@Emaxians_nft) October 4, 2022
The post EMAX is soaring after whopping fine on Kim Kardashian: should you buy EMAX? appeared first on CoinJournal.
Source: CoinJournal: Latest Bitcoin, Ethereum & Crypto News