SHIB is currently one of the most talked-about cryptocurrencies on the market. In the past couple of days, there has been a rise in the price of the memecoin, which has recorded an increase of more than 30%. But will the rise continue?
Peter Brandt is one of the most experienced analysts in the financial markets. He recently stated that Shiba Inu (SHIB) could rise. He shared his analysis via TradingView. In his latest technical analysis, Brandt said that SHIB may have entered a bull cycle.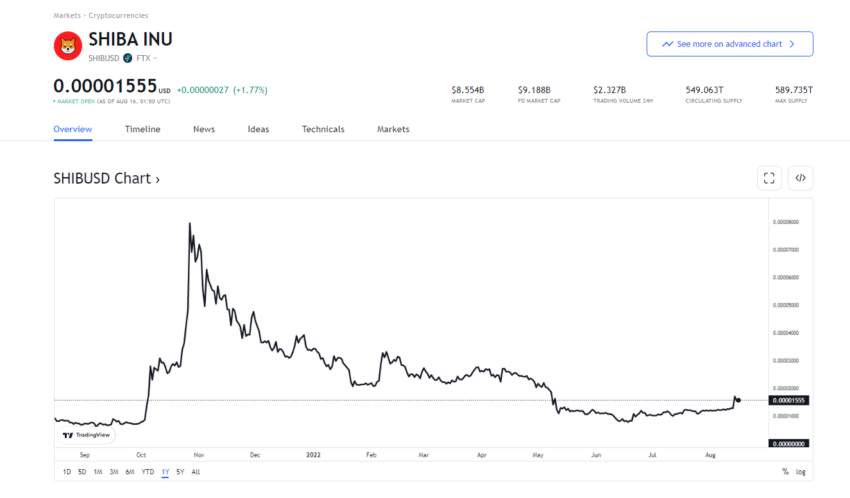 SHIB: Will the Price Rise Continue?
David Gokhshtein, one of the well-known names in the crypto market, also pointed out that the rise in the price of SHIB may continue. This is in his post on his personal social media account.
Gokhshtein is the founder of Gokhshtein Media and a former US congressional candidate. He said:
"Anyone watching $SHIB right now. It looks like it's fueling up for another leg."
It was learned that Shiba Inu has recently attracted the attention of whales and individual investors as well as analysts. SHIB transactions over $100,000 increased significantly in the last 4 months.
In addition, Shiba Inu activity on social media has increased significantly recently.
Dog-themed cryptocurrency SHIB was trying to protect its gains at the time of writing. Shiba Inu , which rose from $0.000013 to $0.000018 with the trend it caught yesterday, is trading at $0.000016.
Bitcoin, on the other hand, is trying to maintain the critical $24,000 level during the same hours. The leading cryptocurrency is at $24,100.
Got something to say about Shiba Inu, Peter Brandt, David Gokhshtein, or any other talking head commenting on the memecoin Shiba Inu, or anything else? Write to us or join the discussion in our Telegram channel. You can also catch us on Tik Tok, Facebook, or Twitter.
The post SHIB: Will it Keep Rising? Peter Brandt and David Gokhshtein Weigh In appeared first on BeInCrypto.
Source: Markets – BeInCrypto
Sushiswap has a new CEO after the community voted for Jared Grey as 'Head Chef'.
Decentralised crypto exchange Sushiswap has announced a new Chief Executive Officer (CEO), whose election was ratified via a community vote.
Sushi confirmed on Monday that Jared Grey was now the new "Head Chef," the DEX platform's title for the CEO.
Sushi's 'Head Chef'
The election of a new chief executive comes after several months of uncertainty as the protocol looked to navigate a rough patch in its governance.
"I'm honored and excited to accept the Head Chef role at SushiSwap," Grey tweeted. "The trust the community and team have placed in me to help shape the next stage of the Sushi protocol gives me pause and reflection on what Sushi stands for, a community project for everyone," he said.
Grey is a former CEO of digital assets platform Bitfineon and decentralised finance (DeFi) protocol EONS Finance.
He becomes Sushi's new chief executive after garnering more than 83%, or over 11 million votes, according to a snapshot of the single choice voting that started on 26 September 2022 and ended Monday, 3 October 2022.
He explained what he brings to the role of 'head chef':
"This is an opportunity to leverage my two decades of engineering and consulting experience to help the team succeed in delivering innovative DeFi solutions, and returning Sushi to its rightful status among its peers."
Sushi launched in September 2020, announced by anonymous developer Chef Nomi and aimed at rivaling leading DEX protocol Uniswap.
The post Sushi community votes Jared Grey as new 'Head Chef' appeared first on CoinJournal.
Source: CoinJournal: Latest Bitcoin, Ethereum & Crypto News